Business undergoing change
Advice – support – production – moderation.
Do you have the responsibility of successfully implementing a change process in your department? We can advise you in the planning of the change process.
Who needs to discuss what with whom at which stage?
How should the methodical framework be shaped so that the discussions can run both efficiently and expediently?
How can we shape the emotional dramatisation of the change process?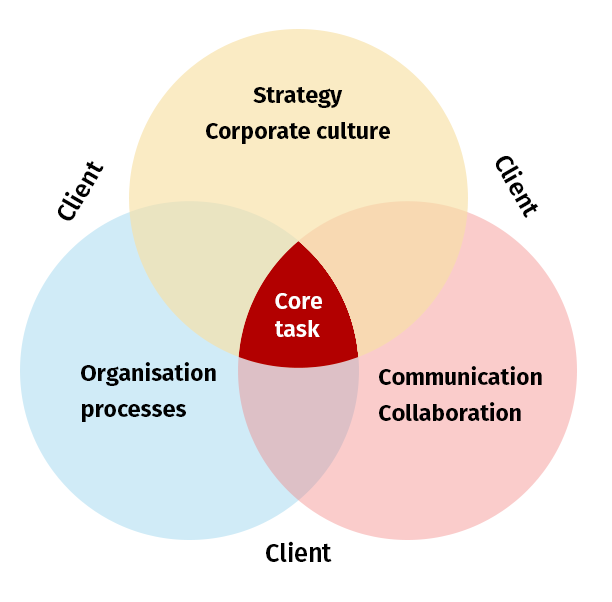 We will support you in the implementation.
How do we do this? By involving the parties concerned.
We will support you from the original definition of the objective, right through to the implementation in the company.
We work together with management and internal advisers to develop carefully matched choreographies for communication spaces. We make the "spirit of togetherness" in the company visible and help to shape solutions where there are differences of opinion. Our tried and tested methods enable us to help you in exploiting the social and intellectual capital of the company - for management and for the employees.
We make use of the full spectrum of methods for organisational and personal development to accomplish this.
Moderation of decision making processes
Role coaching for executives and project managers
Team development for teams with complex tasks
Development programmes for executives
Large group events and conferences on simultaneous change of departments or company units
Qualification programmes
Integrated process designs for company change
When doing so, we take all the areas which are important for management and the tasks into consideration, along with the particular culture of the company.
Why our support is particularly effective: We think with our customers.
Your time is short and budgets are tight.
We shape the services we provide to you in a flexible way which saves time by using tailored, effective methods in our training and consultation, which are goal and result focused by planning transformation projects which have a practical emphasis. Participants will receive clear recommendations for implementation and they will receive our support when putting the changes into practice.